Easy Kale Apple Walnut Salad
This apple walnut salad with dijon vinaigrette is a great way to enjoy apples in a savory dish when you have gotten your fill of apple crisp and pie. Not only is it delicious, but it is packed with fiber and antioxidants.
Although the cooler fall temperatures usually have me craving comfort food dishes like this four bean chili or my vegan pumpkin chocolate chip muffins, I can't get enough of this salad! I love switching up my salad greens as the weather cools for heartier ones like kale.
Why You'll Love this Salad
A short and sweet ingredient list.
Meal prep friendly! Kale salads don't wilt or get soggy when sitting in the fridge for a day or two; if anything they sometimes taste better.
This salad is the perfect accompaniment to a hearty soup for a delicious fall meal.
Easily adaptable to be vegan or vegetarian. This recipe is also gluten free as written.
Ingredients You'll Need for this Salad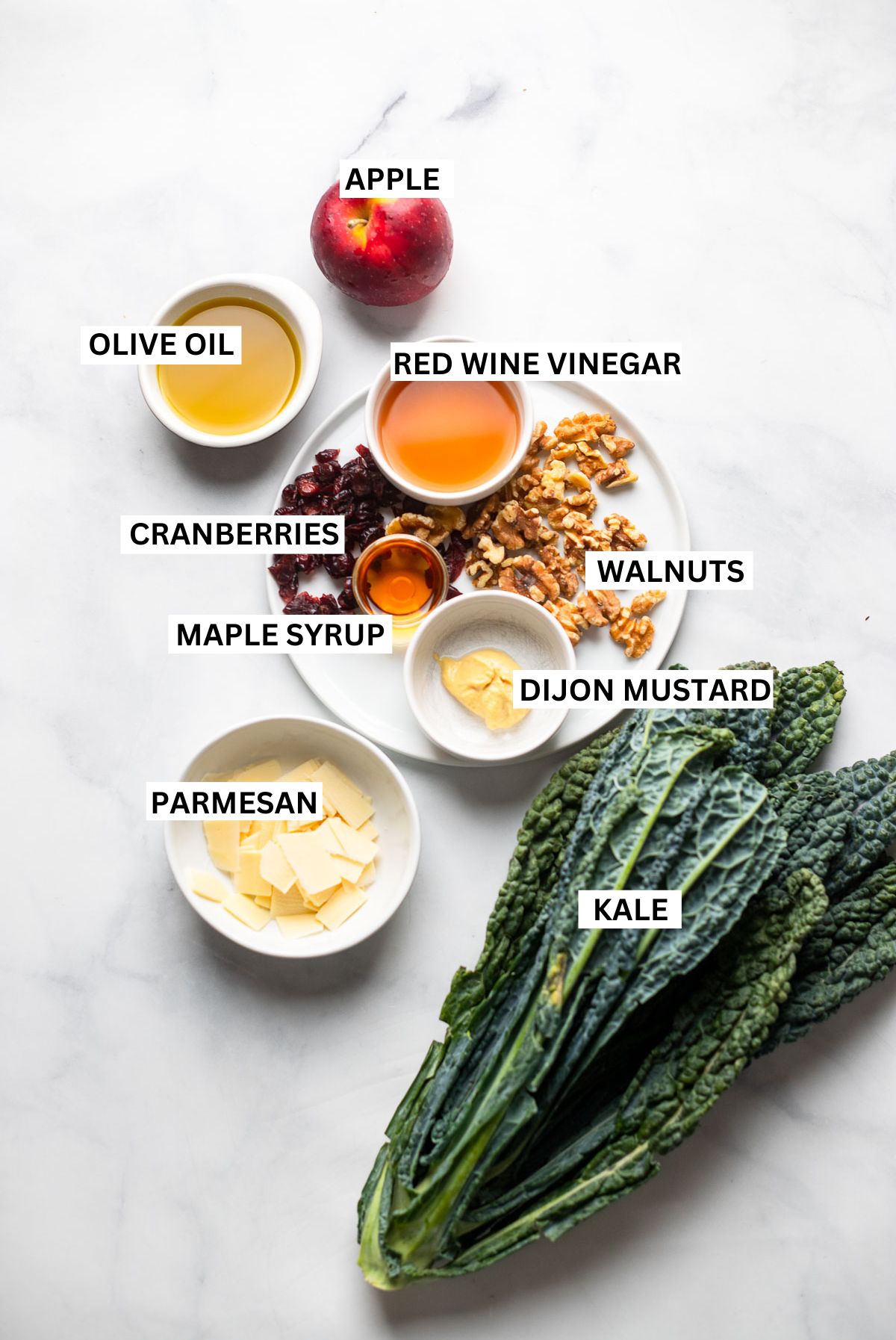 Kale: I used lacinato (ie. dinosaur) kale for this salad. I prefer it over curly kale since the texture is better for salads after it gets massaged.
Apple: use an apple variety that is more crisp with a sweet-tart flavor like pink lady, Honeycrisp, or Fuji. If you want to lean into the tart flavor to balance out the sweetness of the dressing and the cranberries, you could use a granny smith apple.
Walnuts: I love the combination of walnuts and apples. In this salad, they add a bit of crunch in addition to the apples. Pecans or pumpkin seeds would also work well in this salad.
Dried Cranberries: Add a little bit of sweetness to this salad. You could also use raisins.
Parmesan Cheese: make sure to double check the ingredients as not all parmesan brands are vegetarian. You'll want to make sure it does not contain animal rennet. If you want a good vegan parmesan, I really like this one.
Dressing: The maple mustard dressing on this salad really highlights the other flavors from the apple and kale. I use about 1/2 tablespoon maple syrup in the dressing but increase to 1 tablespoon if you like a sweeter salad.
Kale Salad Tip!
Cut your kale into very thin strips when chopping it up for this salad. The smaller the kale pieces, the less likely you are going to feel like you have to chew your kale salad forever like a rabbit. 🐰 As you can see in the image below, my kale is chopped in fine strips.
Step by Step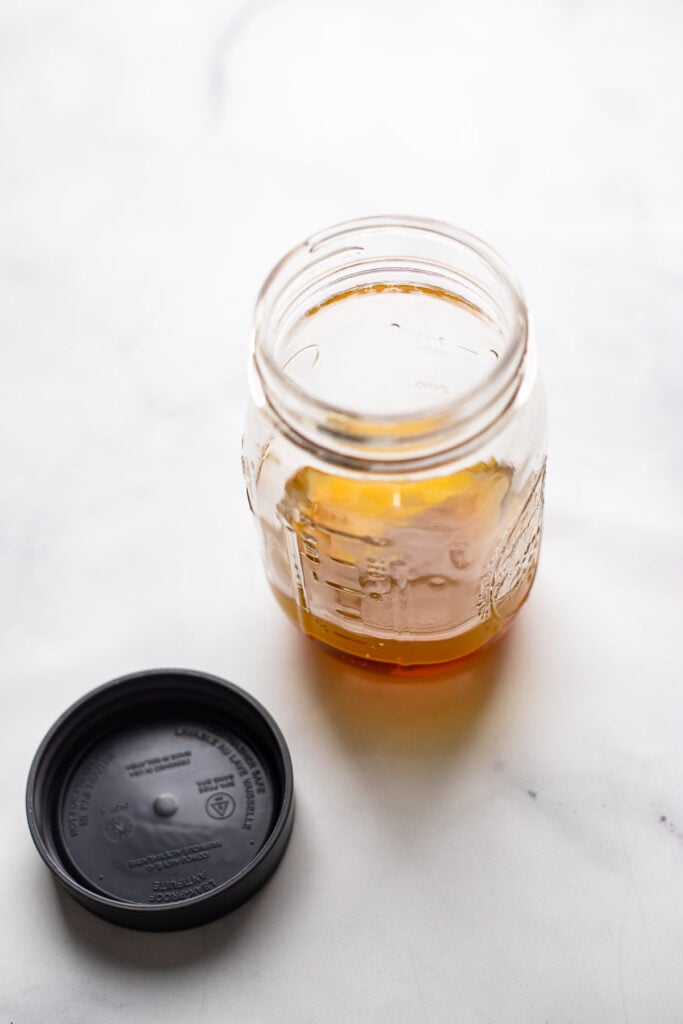 STEP 1: Make your dressing by combining the olive oil, dijon mustard, maple syrup, red wine vinegar, salt and pepper in a mason jar. Screw the lid on tightly and shake vigorously to make dressing. Set aside.
STEP 2: Cut the stems out of your kale leaves and thinly chop. Add oil to chopped kale and massage well with your hands to soften the leaves.
STEP 3: Make your salad by adding the dressing, apple, walnuts, and parmesan to the bowl with the kale. Toss to coat all the ingredients in dressing.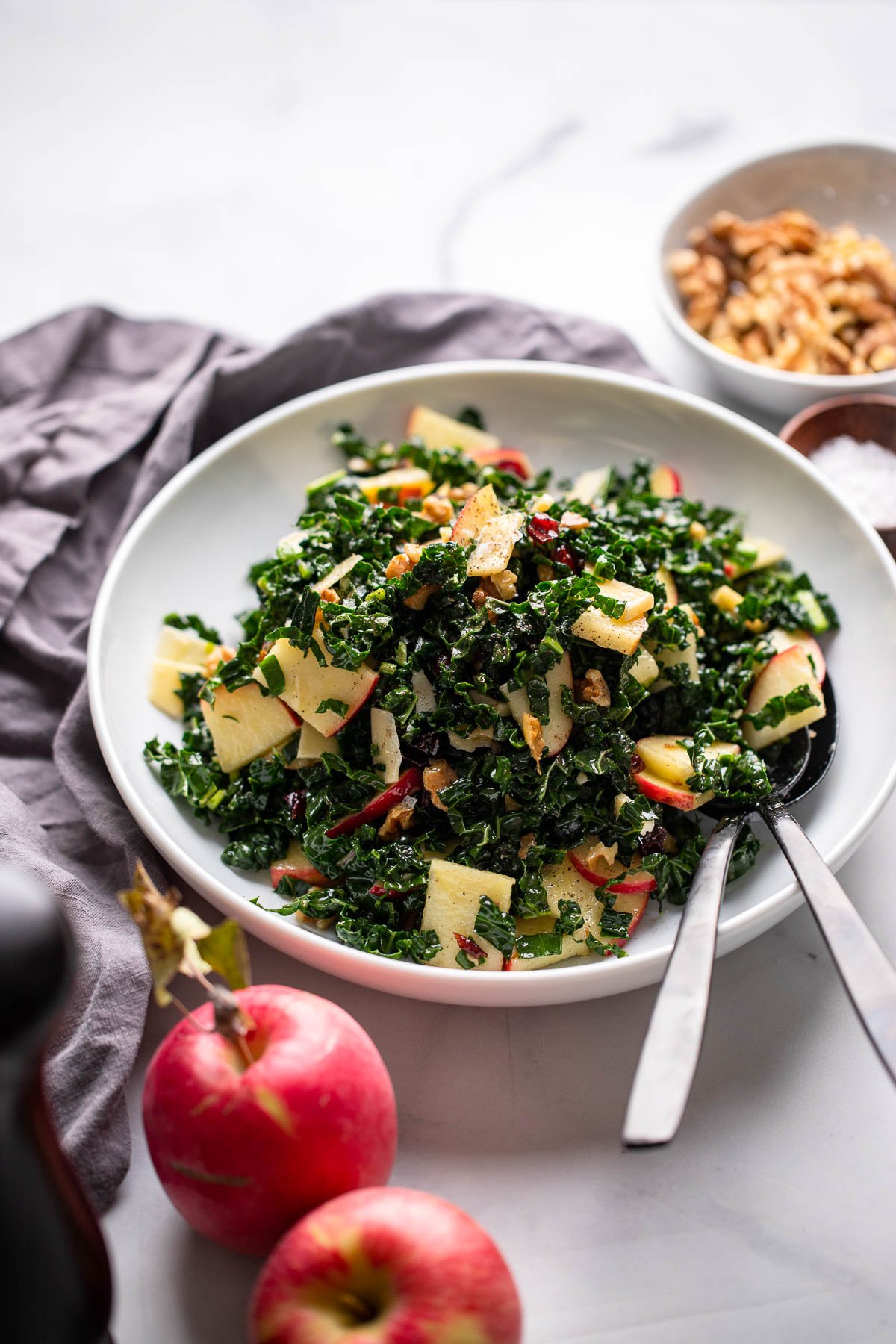 Variations
Use cubed cheddar cheese in place of the parmesan.
Use balsamic vinegar instead of red wine vinegar in the dressing.
Add some roasted butternut squash or sweet potato.
Add cooked quinoa or a hearty grain like cooked farro.
Add some chickpeas for plant-based protein.
Use pear instead of apple for a delicious twist on this salad. Use a more firm pear variety as some may be too soft for salad.
Frequently Asked Questions
How do you get the bitterness out of kale salad?
Massaging the kale before assembling your salad can help reduce the bitterness. Pairing your kale with sweet and acidic ingredients like the apples and vinaigrette in this salad also gets rid of the bitterness.
How long does kale salad last in the fridge?
Kale salad can keep in the fridge in an airtight container for up to 3-4 days.
What to Serve with this Apple Walnut Salad
More Salad Recipes You'll Love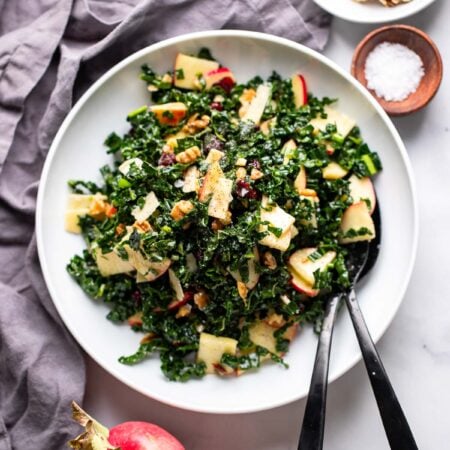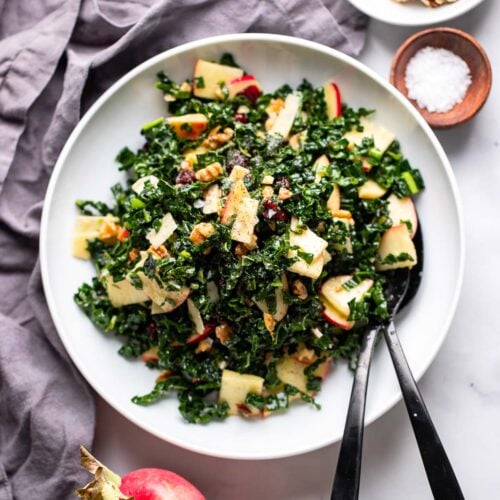 Apple Walnut Salad with Dijon Vinaigrette
Created by: Dietitian Debbie
This apple walnut salad with dijon vinaigrette is a great way to enjoy apples in a savory dish when you have gotten your fill of apple crisp and pie. Not only is it delicious, but it is packed with fiber and antioxidants.
Prevent your screen from going dark
Ingredients  
Dressing:
1/4

cup

olive oil

2

tablespoons

red wine vinegar

1

tablespoon

dijon mustard

1/2

tablespoon

maple syrup

Sea salt and ground black pepper

to taste
Salad:
1/2

tablespoon

olive oil

1

bunch lacinato kale

destemmed and chopped

1

apple

cored and thinly sliced

1/3

cup

chopped walnuts

1/4

cup

dried cranberries

1/4

cup

shaved vegan parmesan
Instructions
Make the Salad
Add the chopped kale to a large bowl with 1/2 tablespoon olive oil. Massage well until leaves are tender.

Add the rest of the salad ingredients (apple, walnuts, cranberries, and parmesan). Drizzle with dressing and toss to coat. 
Notes
Leftover salad can be stored in the fridge for up to 3-4 days in an airtight container. 
To make this salad a meal, add canned chickpeas and cooked quinoa. 
Nutrition
Serving: 1/4 recipe | Calories: 315kcal | Carbohydrates: 24g | Protein: 4.5g | Fat: 26g | Saturated Fat: 3g | Polyunsaturated Fat: 23g | Sodium: 160mg | Fiber: 3g | Sugar: 10g
Reader Interactions